Church and School Packs
Are you looking for exciting, easy-to-use curriculum
that brings Bible stories to life?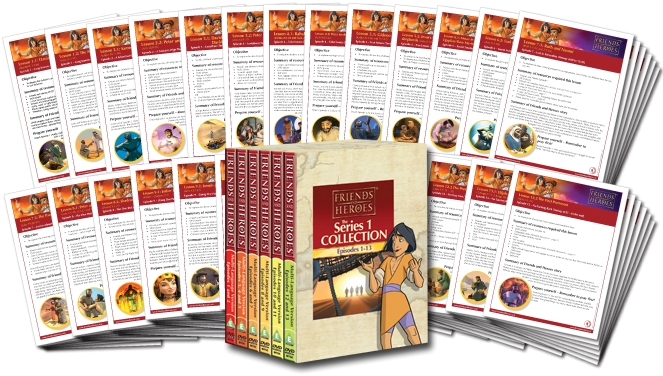 Try Friends and Heroes Church and School Packs with
curriculum for churches and schools!
Each Church and School Pack includes:
13 Friends and Heroes episodes in ten languages - on six DVDs in an attractive slipcase
Lifetime public display license
Approximately 26 downloadable lessons available in three different curriculum options
○ Churches (ages 5-11)
○ Schools - grades K-2
○ Schools - grades 3-6
Download Free Sample Lessons
Sample lessons corresponding to the video clip below are available to help you to consider how you might use Friends and Heroes Bible Lessons in your children's ministry or education setting. (Please don't use these samples in your group unless you have obtained the appropriate Friends and Heroes DVD, along with a Public Display License).
We recommend that you first download and print the sample lessons and then watch the video segment. This will help you to see more easily how the curriculum and videos work together.
Sample lessons - Lesson 1.1: "Daniel in the Lions' Den"
Church Bible Lessons:


○ Download a

FREE sample copy

of Lesson 1

here

.



We hope you like the material you download on this page and we would like to keep in touch with you, so please tell us who you are by clicking here to register for our e-mail newsletter.
Click the image below to view the video excerpt which corresponds with the sample Lesson 1.1 in all three curriculum types.
Want more details?
Visit our curriculum pages for more information on our Church Bible Lessons and our School Bible Curriculum.
You can also click here to learn how to start a 60 day Risk-free Trial for Friends and Heroes Bible Curriculum!